This article is about the case of a Clearwater High School teacher named Cara Ryan who admitted to the shooting death of her ex-husband, John Rush, a retired Sergeant for the St. Petersburg Police Department.
You can find the lead-in to this blog post on my Website by clicking here
Ms. Ryan was arrested and charged with second-degree murder in March, 2015. Investigators didn't believe that Ryan lured Rush to the apartment with the intent to kill him.
Her bail was originally set at $500,000 but was cut in half by the same Circuit Court Judge a few days later.
The judge stated that although the evidence against Ms. Ryan was "pretty significant," her family ties in the area made her a low flight risk. She was released on bail the following morning, about a week after her initial arrest.
Ryan and Rush were married for nine years before their marriage ended in divorce. They continued an on-and-off relationship up until the day the fatal shot was fired that took the life of John Rush in 2015.
Initially, after the divorce was finalized, family members said Rush was happier than they'd seen him in a long time, in contrast to Ms. Ryan who was said to be distraught to the point that she began taking prescribed anti-depressants. She also took time off from her teaching duties at Clear-water High School where she worked for 24 years.
Rush worked at various positions for the St. Petersburg Police Department, retiring in 2005 as a sergeant, assigned to the forensics unit and was hired by the Pinellas-Pasco Medical Examiner's Office as a forensic investigator shortly after his retirement from the force. He worked at that position for close to ten years.
On many occasions, people are affected by news stories just by reading a headline. Additionally, their opinions can be decided solely by reading one article about a situation which hasn't yet been resolved.
For instance, if you noticed a headline relating to this case when it first became newsworthy that stated:
"Former St. Pete officer shot to death by ex-wife, deputies say" your first impression might assume the ex-wife is guilty.
Reading through the article may reinforce your initial assessment.
This article displayed passages that were said by Sgt. Joe Pratt, who worked with Rush describing him "as a good officer" that was "very likable" followed by a statement reading:
"You never think a friend of yours will be murdered… You hear about car wrecks and illnesses and things like that, but for a life to be taken away for no reason, that comes, complete shock. Something I would have never expected."
A similar article that was written at the time of the occurrence was titled:
"Ex-wife charged in St. Pete officer's shooting death", with passages displaying that at a press conference the Pinellas County Sheriff opined that:
"Cara Ryan lured John Rush to her apartment with an explicit sexual text message" and "Ryan controlled Rush: monitoring his bank accounts, insisting he show her receipts after lunch outings and not letting him own a computer."
After reading through these comments, your opinion may imaginably no longer reflect the possibility of Ms. Ryan's innocence.
Additionally, Social Media postings at the time such as the Facebook page of the local news station WFLA displayed a caption relating to the incident titled:
BREAKING: Pinellas teacher Cara Ryan sent a sexual text to her ex inviting him over, investigators say. She's now charged with 2nd degree murder.
Here's why investigators say she was angry: http://8.wfla.com/1wEtjM4
The link is no longer active from the station's Facebook page but the comments still remain.
Most of them formulate a poor light on the defendant as the below image demonstrates: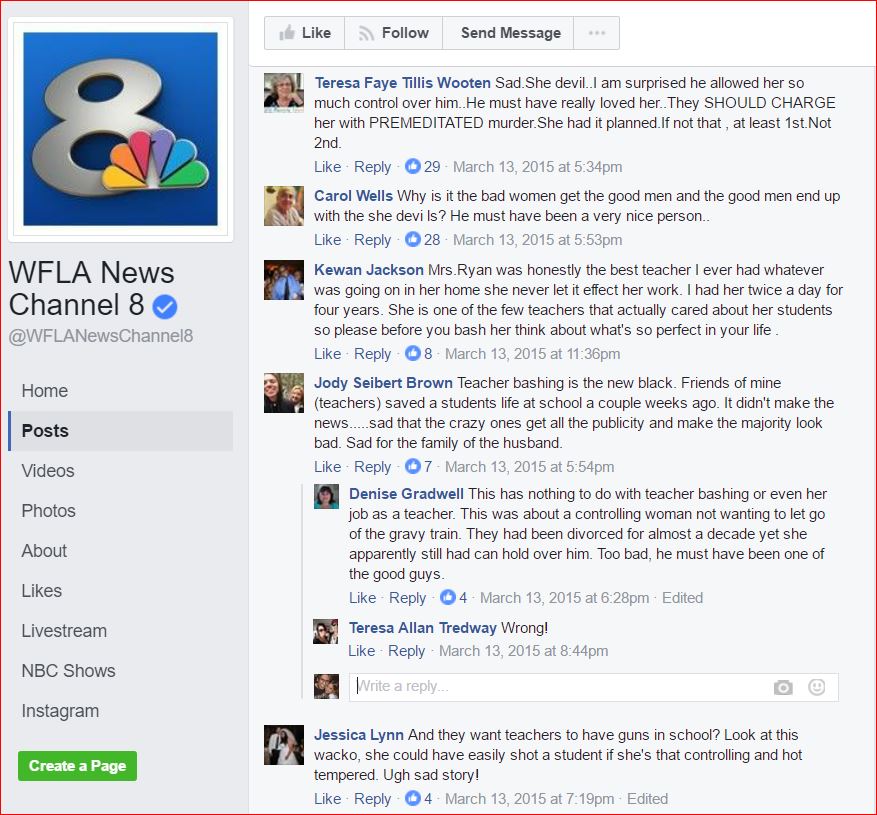 Click the above image to enlarge
Click here to read the entire 72 Comments of this Facebook thread.
Other social media posting forums such as Topix, a local posting site which is available in that area can also give insight regarding people's opinions about the case when it first broke in the local news.
One poster commented as the below image shows: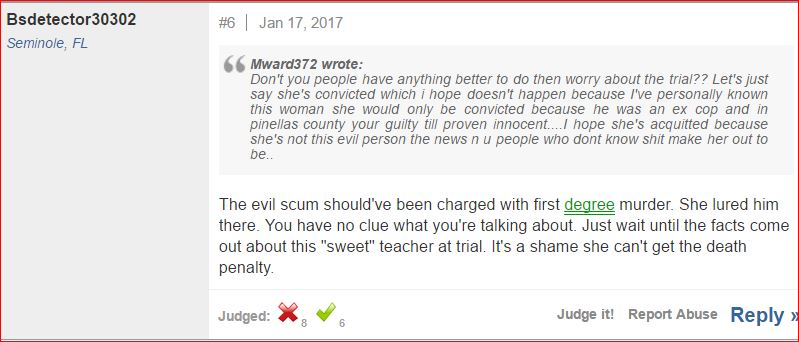 Click the above image to enlarge
But in defense of others that decided to comment, other posters vehemently justified Ms. Ryan actions
Click here to read the entire thread on the Clearwater, FL Topix Website.
But the most damaging information disseminated against Ms. Ryan may have been the press conference held by Bob Gualtieri of the Pinellas County Sheriff's Office.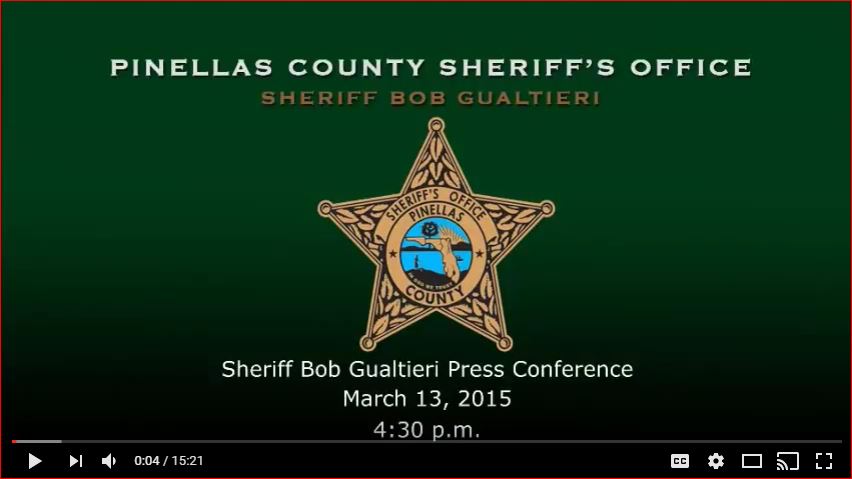 Click above image to hear the press conference in full titled:
Detectives Arrest Indian Rocks Beach Woman For 2nd Degree Murder
All of these above newspaper headlines and Internet titles, passages from those articles and posts as well as the press conference video could easily impact your initial assessment to be swayed even further for considering Ms. Ryan's guilt.
Even the title of this article may give the knee-jerk reaction that Ms. Ryan is guilty of the crime.
But that's not how it works in our justice system and is exactly why we have trials and juries to decide these matters; particularly when the sentence for a guilty verdict could potentially result with life in prison.
So let's consider the events that led up to the homicide and the evidence presented at trial.
Court testimony showed that it was Ryan who tried to keep the relationship solvent while Mr. Rush "kept it polite, pleasant, arm's length" as described by the Assistant State Attorney who tried the case.
The facts that we now know are that Ms. Ryan did send a suggestive text to Rush and he did go to her apartment. We also know that Ryan fired the fatal shot that took Rush's life.
The single gunshot went through Rush's arm and entered his heart. He staggered to the next door neighbor's front porch where he collapsed and died.
Both the neighbor and Ms. Ryan called 911 to report the incident. The neighbor heard the gunshot at approximately 10:15 pm.
It was the Assistant State Attorney that played the recording of Ms. Ryan's emergency call for the jury which stated "My ex-husband came in, and he raped me".
At some time during his visit, he and Ryan did engage in a sex act. Either during or after the act, Ryan received a text message from a detention deputy she was apparently dating. Rush, seeing the text became enraged at which time he became violent according to Ms. Ryan and began to rape her. It was at this moment that Ryan claimed the mutual consent was lost.
Shortly thereafter Rush grew angrier and left the premises but returned a short time later when he was shot by Ms. Ryan with a .38-caliber pistol that he himself purchased for her while they were married.
The Assistant State Attorney said that "The story is evolving… It's evolving because she's trying to protect herself."
Arguments at trial
According to the defense Rush pinned Ryan down and threatened her: "I'm going to kill you. I'm going to kill him. I'm going to bust you open so no man can want you again."
The prosecution's case was based on the fact that Ms. Ryan changed her story three times during the time she was interviewed after police arrived at the scene. She also learned two days before the shooting that Rush took her name off his bank accounts which caused her to be dismayed at his display of his independence as emphasized by Pinellas County Sheriff Bob Gualtieri at the news conference.
Gualtieri also told reporters at the news conference that Ryan changed her story at least ten times including what was said to investigators and additionally through phone calls they were able to "listen in on" after the shooting but before her arrest.
The prosecution argued that Ryan was a controlling woman who concocted a story because she was angry that she lost her hold over Rush.
Taking the stand at trial the Detective who was the lead investigator on the case told the jury that Ryan gave three versions of the alleged rape before she said she thought he was an intruder.
But according to the defense, the detective was a close friend of Rush and showed a definite bias in his testimony. The defense also brought up inconsistencies in the testimony from the responding deputy who kept tabs on Ryan until detectives arrived.
The defense attorney told the jury that the responding deputy was friends with Rush; which he denied, and said they only worked together on a professional basis when they teamed up on the same cases with the Pinellas-Pasco Medical Examiner's Office.
The defense attorney also questioned whether her Miranda rights were read to her and asked why authorities at the scene left Ryan, a reported rape victim at the time, in a cruiser for a long enough time that she urinated on the floor.
The defense attorney went on to state to the responding deputy that "This poor lady was in the car almost three hours before she got attention for her rape, is that correct?"
"Yes, sir," he said.
The defense's summation tried to show that Rush was "out of control" on the day he was shot dead. He had been driving around drunk and experiencing withdrawal from an Oxycodone prescription and was an intimidating, unpredictable addict. He went on to say that his client had "never seen him this out of control," illustrating that his client shot Sgt. John "J.J." Rush in self-defense.
In late January of this year (2017) after only two hours of deliberations the jury found Ms. Ryan not guilty of the charge against her.
After the verdict was handed down one of her defense lawyers said "the jury likely sided with our version of what led to Rush's death because prosecutors didn't present any evidence rebutting their argument that she fired in self-defense."
In a "he said, she said" case the best attorney usually comes up with the win.
Michael B. Cohen's résumé includes close to a combined forty years working as an Assistant United States Attorney prosecuting cases for the government and currently practicing as a criminal defense attorney in Fort Lauderdale, Florida for almost half of that period of his professional career.
On the state level, he previously held the office of Assistant State Attorney for Broward County, Florida making his law firm the logical choice to fight all allegations filed by either the State of Florida or any prosecutorial branch of the federal government.
To view his complete résumé and full list of qualifications, and understand what should be your next step if you or someone you care about is accused of homicide or are facing any other criminal allegations, click here.